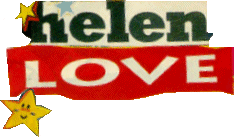 "Oh no, it can't be true, everybody's saying Welsh bands are cool
Oh no, that can't be right - apart from Helen Love they're a load of shite"

So sang the Teen Anthems in praise of one of the finest bands in Wales, nay, the world. Of course, Helen Love aren't the only great Welsh band - there's the Manics, Catatonia and and much-missed late-'80s thrashers Tortoise Corpse to name just a few. But Helen Love rank highly and all the world should know their name!

"Baby I love you, you make my heart go boom!"
Helen Love - Does Your Heart Go Boom

So who is Helen Love? Well, she's the singer, does a mean Joey Ramone stance on stage and is the constant fixture of the band. Other band members so far have been:
| | |
| --- | --- |
| Super Kay Guitars... | Sheena |
| ... and Casiotones | Roxy; Mark |
"Get your foot on the fuzzbox ready to play, from the Swansea Bay to the USA"
Helen Love - Yeah, Yeah, We're Helen Love

So what do they sound like? Well, let me throw a few song titles at you: Joey Ramoney; Rockaway Beach For Me, Heartbreak Hotel For You; Punk Boy.... get the idea yet? They're undoubtedly Wales' number one Ramones fans - they're even best mates with Joey himself. But they're not spiky punks. Note the lack of a drummer in the above line-up. Helen Love don't need drumkits when they've got their trusty Casio keyboard - imagine the riff to Blitzkrieg Bop played over a bossa-nova beat and you're somewhere in the right area. But most of all, Helen Love are POP!

"Bubblegum, punk pop, disco, don't stop"
Helen Love - We Love You

So now you're wanting to hear their songs. Well you're in luck. They had an album released on Che&eacute records a while back but left the label pretty swiftly after, thus ensuring zero promotion. Now they're back with Damaged Goods once more and have a number of things in the pipeline, including a re-release of the album.

Helen and co. have previously released a 7 singles and an EP on Damaged Goods (also available as two compilation albums), a few singles on Che&eacute and have contributed to various split singles and compilations over the years, including a tribute to their favourite football team (soccer, to you Yanks), Cardiff City, under the psuedonym of Superlove.

But you can find all this (and more) out on the rest of this site. So what are you waiting for?

"1, 2, 3, 4, 5, it's great to be alive"
Helen Love - Riding Hi

Currently, the fun things you can do are:

"Pop boy, pop girl, we love you"
Helen Love - We Love You

NOTICE - These pages have been updated about 3 times in the last 3 years (it currently being September 2001) and although I have plans to do a proper update, it ain't going to happen any time soon due to my other website commitments. However, don't despair - there is now an Official Helen Love Website run by Jamie, and if you don't think you've got enough here, head on over and see what he has to offer.

Muchas gracias to the one and only Helen, Matthew Kaplan Superstar, Tuck from Wat Tyler, Wayne Putterill and Buzz for encouragement and assistance with the site. If you want to see your name here, write! I need zine aricles, radio session information, corrections and anything else you can provide.
---